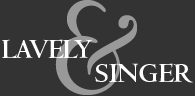 HIRING STANDARDS - EQUAL OPPORTUNITY EMPLOYER
Equal employment opportunity is extended to all persons in all aspects of the employer-employee relationship at Lavely & Singer, including recruitment and hiring. The National Association for Law Placement ("NALP") form provides statistics regarding the diverse make-up of the firm's attorneys and summer associates.
Lavely & Singer does not discriminate against applicants on the basis of race, color, religion, creed, sex, sexual orientation, pregnancy, marital status, national origin, citizenship, veteran status, ancestry, age, physical or mental disability, or medical condition, or any other consideration made unlawful by applicable laws.