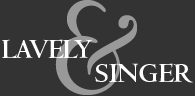 Lavely & Singer is often looking for hard-working experienced litigation secretaries and/or paralegals with superior litigation skills.
Lavely & Singer is a small boutique firm that lightly staffs its cases, which range from multi-million-dollar, multi-jurisdictional disputes that end in month-long jury trials, to one-day arbitrations, and everything in between. Our clients often call with an immediate need for an injunction, or we will receive a fax from a tabloid planning to go to press with a libelous story in a few hours. Often the facts and law need to be researched, and packaged into effective pleadings and declarations and exhibits and/or demand letters, that same day. Accordingly, the work environment is faster paced than a typical firm and requires a staff that works well under the pressure of imminent deadlines that often may require overtime.
Compensation is based on experience (and increases by merit), which begins at a level competitive with that offered by other comparable firms in Los Angeles. Benefits include medical and dental insurance, life insurance, 401K plan, parking, and paid vacation time, among other benefits.
All experienced litigation secretaries (minimum 5 years experience preferred) and paralegals (minimum 3-5 years experience preferred) who feel that they will thrive in our intensive culture and wish to be part of a winning team are invited to send a resume, via Mail only (please do not call or send via e-mail), to:
Office Administrator
LAVELY & SINGER
2049 Century Park East, Suite 2400
Los Angeles, California 90067-2906