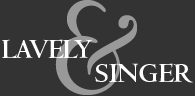 Brian G. Wolf, (Member) born Saginaw, Michigan, April 10, 1957; admitted to bar, 1985, Texas and U.S. District Court, Southern and Eastern Districts of Texas; 1988, California; 1989, U.S. Court of Appeals, Ninth Circuit and U.S. District Court, Central District of California; 2006, Supreme Court of the United States.
AV Preeminent rated by Martindale-Hubbell® Peer Review Ratings (highest possible rating in both legal ability and ethical standards for the past 20 years), AV Preeminent Rating by Lawyers.com, Avvo Top Attorney Rating 2018
Education: University of Michigan (B.A., 1979); University of Houston (J.D., 1984).
Member: Century City, Beverly Hills and Los Angeles County Bar Associations (Member, Sections on: Entertainment Law, Litigation, Intellectual Property); State Bar of Texas; State Bar of California; The Association of Trial Lawyers of America; California Trial Lawyers Association.
Special Agencies: California Labor Commissioner; WGA, SAG and DGA Arbitration Tribunals.
Practice Areas: Entertainment Litigation; General Civil and Business Litigation; Right of Publicity Law; Libel, Slander and Defamation; Copyright Law.
Reported Cases: Vincent Cusano v. Kiss Company, 264 F.3d 936 (9th Cir. 2001); Heather Stone v. Lita Richardson, Labor Commissioner of the State of California, No. TAC 7-02 (2003); Cusano v. Klein, 196 F. Supp.2d 1007 (C.D. Cal. 2002); Cusano v. Klein, 280 F.Supp.2d 1035 (C.D. Cal. 2003); Miller v. Glenn Miller Productions, 318 F.Supp.2d 923 (C.D.Cal. 2004); Miller v. Glenn Miller Productions, 454 F.3d 975 (9th Cir. 2006). Axiom Foods Inc. v. Acerchem International, Inc. et al., Case Number: 2:15-cv-00870-PA-AJW (9th Cir. 2017)