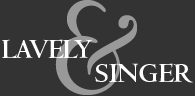 Todd S. Eagan, (Member)
Practice Areas: Todd Eagan's practice focuses on all aspects of entertainment and business litigation with a concentration on defamation, rights of publicity, copyright and trademark infringement, profit participation rights, motion picture finance, unfair competition and employment matters.  Mr. Eagan represents a variety of clients in all aspects of litigation, including writers, directors, producers, actors, talent managers and management companies, production and distribution companies, apparel manufacturers, film financiers and bridge lenders, as well as private equity funds. Mr. Eagan has extensive trial experience and practices before state and federal courts as well as private arbitrators.  He is admitted to practice law in both the State of California and New York State.

Notable Cases: University of Texas v. Ryan O'Neal, LASC Case No. BC468468; Ryan O'Neal v. Craig Nevius, LASC Case No. SC113381; Robert Randolph v. John Travolta, LASC Case No. BC 486985; Kareem Abdul-Jabbar v. The Upper Deck Company, Inc., et al., LASC Case No. BC 444352; Nicolas Cage v. Samuel Levin, et al., LASC Case No. SC105285.

Bar Admissions: State Bar of California (2000), U.S. District Court, Central District of California (2000), State Bar of New York (2004), U.S. District Court, Northern and Southern Districts of New York (2005), U.S. Court of Appeals, Ninth Circuit (2005).
Memberships: Los Angeles County Bar Association (Member, Litigation Section), Beverly Hills Bar Association, New York State Bar Association, American Bar Association (Member, Litigation and Intellectual Property Sections), Consumer Attorneys Association of Los Angeles (CAALA), Association of Business Trial Lawyers (ABTL).
Education: Middlebury College (B.A., 1996), Pepperdine University School of Law (J.D., 1999).