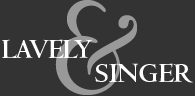 Kevin James, (Of Counsel) born August 6, 1963; admitted to bar, 1988, California. Education: University of Oklahoma (B.A., 1985); University of Houston (J.D., 1988).
Honors/Articles: Phi Delta Phi. Member, Executive Board of Editors, Alumni Developments Editor, Houston Law Review, 1986-1988. Assistant U.S. Attorney, 1990-1993. Member, National Academy of Recording Arts and Sciences. Board of Advisors, Texas Review of Entertainment and Sports Law.
Practice Areas: Entertainment Litigation; Right of Publicity; Right of Privacy; Libel, Slander and Defamation; Copyright; Internet Law.